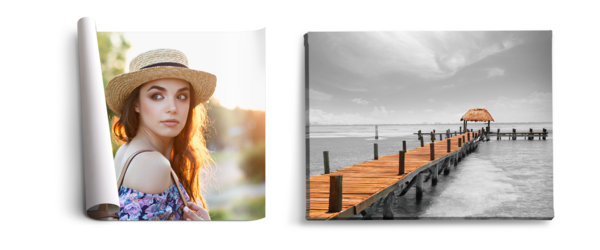 Canvas Prints
A centerpiece that ties the room together.
Rolled and stretched canvas option
Enlarge photographs and artwork
Printed on premium artist canvas
Create Your Own Custom Canvas Prints?
Order canvas prints at UPrinting and turn your favorite photographs into sophisticated artwork you'd be proud to display. Choose between rolled or stretched for showcasing in your home, office, restaurant, or store.?Here are the other benefits and features. You can also give these away as gifts to clients, employees and personal friends.
With the rolled canvas, you can have your artwork printed from 8" x 10" to 40" x 60"; custom sizes are also available. Have your high-resolution photo or artwork printed in as fast as 1 business day. Rolled canvas prints are shipped in tube containers to protect your order during transit.
Our stretched canvas art prints are mounted on a 1.5" wood frame, which are perfect as wall decorations.
All submitted files appear on thick, high-quality artist canvas. It's made of a poly-cotton blend that adds durability and protects the final look. The matte finish gives it an elegant surface that's easy on the eyes.
Our printing services keep production convenient for your decorative or gifted canvas prints:
Create a design online with our intuitive tool. After selecting "Create Your Design Online," the design tool will load and have you choose between a horizontal or vertical orientation. You can upload images from your computer, add and edit text, and combine different colors.
Download layout templates to open on your preferred software.All available sizes come in AI, JPEG, PDF, PSD, and PUB formats. Choose the dimension you need under the "Templates" tab and the file will be saved to your device.
A free file check for every submission. All submitted artwork go through a thorough automated and human review to check for technical quality.
A free PDF proof you can approve before print.After uploading your file, choose "Wait – I want to receive and approve a free PDF proof" under the "Select a Proofing Option" section. A PDF proof will be emailed for you to review and approve before your order proceeds to production.
Have more questions? We'd be glad to assist you with your orders. Chat online with one of our customer service representatives or call us at 888-888-4211
Design Ideas and Marketing Inspiration
Canvas Printing FAQs
A.
Rolled canvas is an affordable option for prints mounted on frames. They're easy to roll up and store for temporary displays. The flexible form gives you several ways to hang or frame the image on your wall.
Stretched canvas comes in thick, high-quality material that is wrapped in gallery or museum style on the frame. Gallery wrap extends and folds the artwork to the sides, covering the entire wood frame. Museum wrap covers the wood frame but does not extend the artwork. Instead, it wraps around in a 1.5" or 0.75" side wrap in white or black.
A.
Custom sizes are available for rolled canvas. Select "Custom Size" then choose the width and height on the pop-up window that appears on your screen.
A.
Rolled canvas can be printed in 1 business day, while stretched canvas requires 3 business days.
Note that the printing time does not include the shipping or time in transit. To find out the estimated arrival of your canvas prints, select "Estimate Shipping & Delivery" below the online calculator.