Designing Your Holiday Postcards
Templates and Sample Designs
Mailing and Printing Tips for Your Postcards
Color Schemes and Palettes for Holidays
Colors can identify brands, objects or occasions. The holidays are just around the corner and we can observe things around us turn red, green, blue, white and gold — this shift in hues makes us feel the spirit of happiness and love.
For decorators and designers, it is important to consider color schemes that are relevant to these celebrations.
We have provided below some creative color schemes for the Holidays.
These are inspired by different holiday icons mixed with touches of non-traditional hues. Choose from different color themes that will best symbolize your Holidays.
Valentine's Day – Red is the most common color used for this season. You can also try some pinks for a change!
4th of July - Nothing says Independence Day better than Red, White and Blue!
Halloween - Orange and Black are traditionally used for Halloween. Now, you can also use black and hues of red to represent vampires, monsters and other creatures.
Thanksgiving - Shades of golden brown for Thanksgiving reminds people of Turkey. You can also mix the browns with bold colors just to give the usual palette a twist.
Christmas – Red and Green used to be the only colors for Christmas. Now, we can use any color for this joyful season. Think of the all the Christmas decorations you see on December.
New Year – When think about the New Year, we are reminded of fireworks; so, we go for metallic colors. However, we can also use color palettes with Pinks and Purple.
It may be challenging to be creative with your postcard greetings. The key is to sound classy but not cliché.
Use common themes in your messages — thankfulness, family, joy — to make your recipients celebrate the season with you. Play with simple words that everybody can understand and appreciate.
To help you begin, below are wording ideas that you can use as inspiration for your project.
Valentine's Day. Let your receivers know that this day isn't just for lovers. Write warm Valentine messages that can spread the love!
"Love is the most wonderful feeling in the world. Happy Valentine's Day!"
"Valentine's Day is much more fun when I get to spend it with you."
"Roses are red, violets are blue, my favorite Valentine will always be you!"
"Sealed with lots of hugs and kisses, sending you sweet Valentine's Day wishes!"
Easter Sunday. Use inspirational wordings to share the spirit of Easter. You can refer to short Bible passages or create one-liners that can make people rejoice and grateful with their lives.
"May the Lord bless you and keep you on this Easter day and always."
"Have an awesome Easter. Have fun Easter egg hunting and hanging out with family."
"Sending you joyful and triumphant Easter wishes!"
"Hunt those bunny eggs. Happy Easter!"
Independence Day. Celebrate the Fourth of July with your recipients by expressing the joy of our freedom. Let your words share patriotism among us!
"It's the Fourth of July Flags are Flying High, & Fireworks Light up the Sky!"
"I wish that on this day, our leaders will imitate the selfless behavior and acts of our heroes."
"Fireworks and Booze. Happy 4th of July!"
"May this Independence Day remind us of how expensive our freedom is. Happy Independence Day"
Halloween. Kids and adults look forward to this occasion for costumes, candies and parties. Be playful with Halloween postcard messages and pattern your wordings with your postcard design too.
"Have a spook-tacular Halloween!"
"Boo!!!! Did I scare you? Happy Halloween!"
"Trick or Treat! Come and eat! Our grilled pig's feet!"
"Have fun dressing up, getting candy, and getting scared. Wishing you a fun Halloween."
Christmas and New Year. This holiday is all about sharing and getting together with family and friends. Avoid the generic "Season's Greetings" and use these practices as inspiration for card wordings. You can include a sense of nostalgia in your greetings for more heartfelt messages.
"Have a magical holiday season."
"May all of this good cheer last throughout the year."
"Wishing you all good things now and throughout the coming year."
"It's the little things that matter most! Enjoy the Holidays."
Holiday Fonts For Your Postcards
We know how important fonts are in the overall aesthetics of your cards. We want to make things easier for you by compiling a list of free fonts that you can use on your postcards.
Valentine Fonts
4th of July Fonts
Halloween Fonts
Christmas Fonts
New Year Fonts
Sample Postcard Designs for the Holidays
It's challenging to create unique designs for clients at this time of year. You have to be extra creative in combining vectors and brushes to come up with different layouts.
When you are swamped with design choices, one tip is to keep it simple; minimize your design choices and stick to the basics.
Vector Images for Holiday Postcards
Check our Holiday vectors that you can mix and match to come up with varying designs. Our classic Christmas icons are ideal for minimalistic layouts and the vibrant New Year vectors are designed for playful themes. Either way, these will bring out the Holiday spirit to your designs.
Download these vectors by tweeting about it to your friends. Happy Holidays!
Can't think of any postcard designs? In a rush? Check out these Free Print Ready Blank Postcard Templates and create professional-looking postcard designs in minutes!
5 Tips for Businesses When Sending Holiday Postcards
Do Not Send E-Cards. With majority of greetings being sent out through electronic means, stand out from the competition by sending printed postcards. Printed postcards have higher chances of visibility and better advertising message retention compared to e-cards which can land on spam folders or typically ignored and sent to trash folders.
Make it Personal. Sign every postcard, it is best to manually sign every postcard but if you're sending out thousands of postcards you can scan your signature and have it printed on the postcard. Adding up signatures adds up a personal touch to every postcard that you send.
Think About Branding. Don't forget to include your business logo and contact information when sending out postcards. Make sure that your postcard's color scheme and wordings complements your branding.
Order Ahead of Time. Get ahead of the competition by sending out postcards early into the season, this will give you a better chance of connecting with your customers and avoiding the mail box clutter that usually arrives a few days before the holiday. Try to get your postcards sent out at the beginning of December for Christmas or two weeks before the holiday.
Use It For Promotions. One way to better utilize your holiday postcards is to use it for promotions. If you are doing a holiday sale then make sure to mention it in the postcard. Attaching vouchers to your postcards is an effective way to track the value of sending out postcards to your customers. You can track conversions via the amount of voucher used during the holiday season.
Postcard Mailing and Printing Options at UPrinting!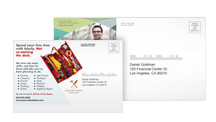 Mailing Preparation would add 2-3 Business Days to your printing turnaround

You can watch this video to learn how to print your Holiday Postcards at UPrinting.com:

A Comprehensive Manual on How Best to Use Holiday Cards to Reach Out to CustomersCustom Holiday Postcards Printing Guide