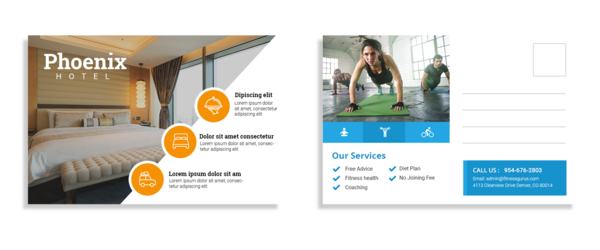 Postcards
Send out personalized messages customers will read and keep. 
Powerful tools with high response rates
Can be mailed or handed out like flyers and brochures
Use spot UV and metallic printing to really stand out
Custom postcards. Traditional tool, impressive results.
"

Direct mail marketing is not dead. With postcard printing, you can resuscitate your marketing efforts without overspending.
What Makes Postcards Effective?
Postcards are tangible. Even with the internet, people still appreciate receiving and holding tangible objects.
More importantly, postcards get read. Customers can immediately see your message the moment they take the postcards from the mailbox.
And unlike other marketing materials that arrive in envelopes, postcards make it easy for your customers to see what you're offering. It's already "open" and ready for your customers to read.?
With postcard printing, you can keep your marketing alive by:
Promoting special offers
Introducing a new product or service

Promoting and thus driving traffic to your website

 

Keeping in touch with existing customers
How to Make the Most of Postcard Marketing
Business postcards are a powerful marketing tool. When done correctly, postcards can generate a high response rate that leads to more sales.
Here are some ways to make your postcard marketing a success:
Target related prospects. Your subscriber list should include people who are or might be interested in your business. A vegan will not be interested in an all-you-can-eat steak, so choose the right prospects.

Create a campaign. – One postcard mailing will not deliver great results. Build familiarity with your business by regularly sending postcards to your customers

Personalize your message. – . Appearing professional is important, and so is building a connection with your customers. Add a personal but brief message to build rapport with your customers. Greet them during the holidays or send them a happy birthday postcard on their special day.

Don't turn your message into a sales pitch. – Although you can include promos and sales in your postcards, don't make it the focus of your message. Postcards should lead to the next step in making a sale, not the end of it.
Here are designing tips for postcards that you can use to create the best postcard.
The UPrinting Guarantee
Full-Color, Error-Free Printing
All files go through a 30-point artwork check to ensure all details are correct on your design.
Quick and Easy Mailing Services
Our direct mail services helps you target a specific demographic. 
Free Design Proofing
A free PDF proof will be sent to your inbox in 6 hours, no charge included
Custom Postcard FAQs
A.Yes, you can print in either a landscape or portrait orientation. It depends on how your design file is set up. If you're printing on both front and back, make sure that the design on the back follows USPS mailing requirements.
A.All files should be at least 300dpi. This ensures that your artwork prints out clearly.
Postcard Printing Inspiration
Postcards: Design, Applications and Tips
Maximize the tried and tested messaging of postcard printing.
Designing USPS-Friendly Postcards
Ensure your postcard design qualifies for USPS mailing.
6 Easy Steps to print Holiday Postcards
Create impactful holiday postcards with these easy and effective tips.
Reviews. See what our customers say.
R. Pant
Connecticut
"We can't say enough about the quality of these postcards. Nice heavy weight card stock, the colors came out exactly as expected, and they arrived quickly—all for a reasonable price."
Shiny Printing Company
Delaware
"Excellent customer service and great quality. UPrinting has great prices and they are always ready to answer any question you have."
Aleix Ruiz
California
"I made these cards to commemorate a yearlong mastermind group I was in. The quality, turnaround time, and customer service was outstanding. Definitely a 'Uprinter' for life."