Outdoor Stickers
Design stickers that withstand difficult weather and water exposure 
Comes in UV-resistant, waterproof vinyl  
Print in protective gloss, high gloss or matte finishes 
Standout in Every Setting 

With

 Durable Outdoor Stickers
Be part of your customer's adventure as they kayak, hike, or bike through nature. Print outdoor stickers that can withstand harsh outdoor elements such as water and UV light. Apply your customized design on the boat, paddleboard, or helmet they'll be using as they explore the outdoors.
Your logo and name look good as new, reminding customers you're their best partner in their favorite endeavor. Your design comes with a protective coating that protects it from scratches and other external damage.
What Makes a Good Outdoor Sticker Design?
Not sure where to start or how to fix your current custom outdoor sticker? Here are a few tips to help direct or redirect the final look: 
Choose the right shape.
Before anything else, you need to make sure the shape and size of your sticker will fit on its designated surface. Measure the item accurately and account for factors such as the curve of the front-facing area. Our online calculator provides a list of sizes fit for the four standard shapes available. You can also select custom size from a long list of widths and heights. 
Print in the correct format.
The vinyl stickers come in cut-to-size and roll formats. Cut-to-size are individual pieces normally applied by hand, while the roll is usually ordered in hundreds of quantities for fast, automated application. The roll can fit automated label dispensers or a standard label gun.  
Less is more.
Don't crowd your design with too many details. A busy look will lose your customer's attention. Put the viewer's focus on a detail that's important to your messaging. It can be your company slogan, logo, or name. Make sure the branding is clear in just one glance. 
Use colors that are on

-

brand.
Keep your custom outdoor stickers look consistent. Stick to your brand's palette or usual set of colors. You want to reinforce the hues' association with your company and appear consistent across all messaging. 
Select a font that makes your message or name readable.
If you want to showcase typography in your design, ensure that the font is readable even from a distance. The words and letters should be visible and not leave your customers confused. Some modern fonts to consider are Avenir, Bebas, and Proxima Nova. Helvetica and Futura offer a contemporary look.
Outdoor Stickers FAQs

?
Are the stickers waterproof, weatherproof, and fade resistant? 
Yes, the vinyl and bumper stickers are made of waterproof, weatherproof, and fade-resistant material. The 4 mil. white vinyl high gloss is highly recommended for outdoor use. The white vinyl material for roll labels can withstand temperatures between -65 °C and 200°F.  
What are the differences between waterproof and weatherproof?
Weatherproof means the outdoor sticker will resist damage in indoor and outdoor use. The 4 mil. white vinyl high gloss (UV) is normally used on bumper or safety stickers that are exposed to weather conditions such as sun, wind, snow, and rain. 
Waterproof means the sticker cannot be damaged even when left overnight in cold water. However, the sticker's resistance to hot water and a dishwasher will depend on how it's printed.  
Digitally printed outdoor stickers come in quantities below 250 pieces. Their vinyl can peel off when submerged in hot water and will get damaged if placed in a dishwasher. We recommend cut-to-size digitally printed stickers for food that will be stored in a refrigerator. 
Offset printing is done on stickers above 250 pieces. The vinyl used here is waterproof in cold and hot water. It won't be damaged when you run it through a dishwasher.  
How long do the stickers last?
The vinyl outdoor stickers last permanently once applied on a surface. The vinyl will leave a residue and be destroyed if you try to remove it. 
How long is the production time?
Bumper stickers can be printed in 1 business day. 
Cut-to-size vinyl stickers take 3 business days to print. Roll vinyl stickers take 4 business days in production.  
Note that the production or printing time does not include the shipping period. To find out the estimated arrival of your outdoor stickers order, select "Estimate Shipping & Delivery" at the bottom of the online calculator. 
Marketing Ideas and Design Inspiration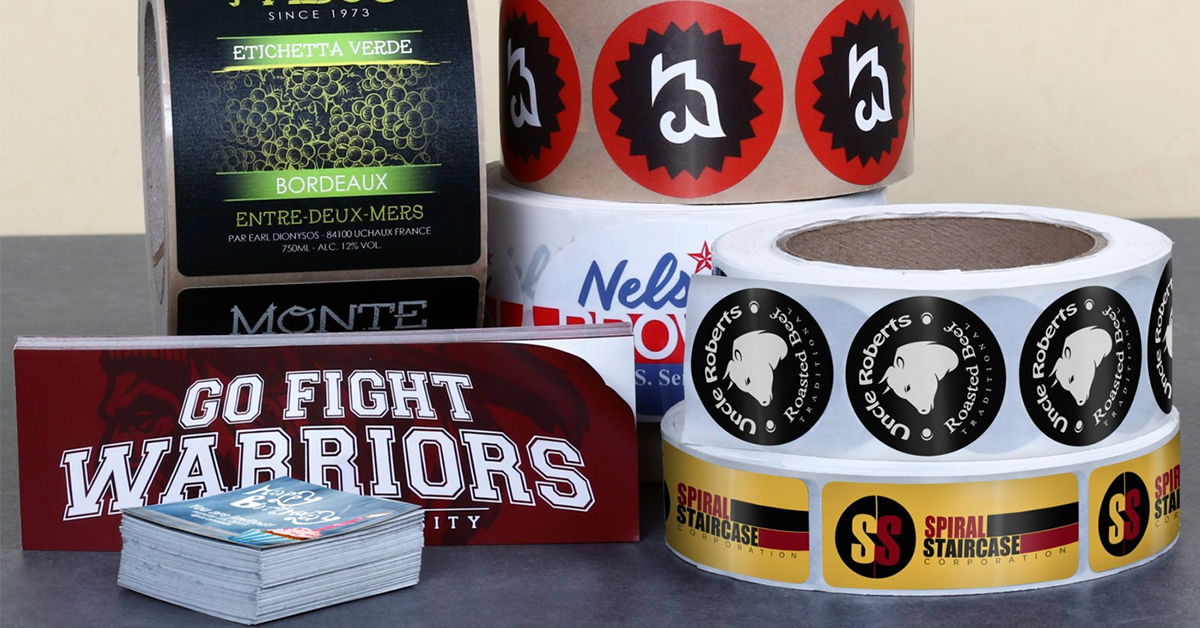 Find out the difference between waterproof and water-resistant materials and which is the best for your outdoor stickers.
Know which details to look out for when choosing the best features for your outdoor stickers.
Everything you need to know about sticker printing.