Cardboard Boxes
Order custom shipping & mailing boxes
Comes in white and Kraft brown corrugated cardboard
No minimum quantity required for an order
Shop Now
The Advantage of High-Quality Custom Cardboard Boxes
Cardboard boxes are what we associate with new purchases, whether checked out at a cashier or delivered to our doorstep. Unboxing offers the experience of unraveling a product we've long been waiting for. At the same time, it offers a branding opportunity, especially for online businesses.
A physical parcel lets customers experience what your brand has to offer in real-time.  For instance, Target included a delivery van printed on its side. Children can easily repurpose the box and pretend they're driving this van. Reusability and brand recall are fulfilled in maximizing and rethinking a custom cardboard box's design.
How to Customize Your Cardboard Boxes
Choose the correct size for your box's length, width, and depth. The product page will show a 3D preview of these selected dimensions. 
Select the sides that will show your printed design. Full-color printing is available on the outside or inside, or on both the outside and inside. 
Create a design online or have us send a dieline template based on your artwork. The online design tool lets you add text, images, colors, and shapes on the outside and inside parts of the box. The 3D preview shows how your printed cardboard boxes could look based on the created design.  
Keep your audience in mind as you create the design. You are not the target market for your product. Remove any biases about your preferences and think about what your customer likes. Is your product targeting health buffs? What colors would appeal to this kind of mindset? Look into doing market research to get specifics about your desired demographic. 
Design a hassle-free unboxing experience. Every customer looks forward to immediately seeing and enjoying the item they ordered. While you want to keep the items safe in transit, the packaging should also provide an exciting reveal for your customer. List down any problems your customers have had with opening your previous and products and see how this can be improved in your next custom cardboard boxes design. This will help improve the unboxing experience of your customers and compel them to share it on social media.
Convenience and Customization With Corrugated Cardboard
---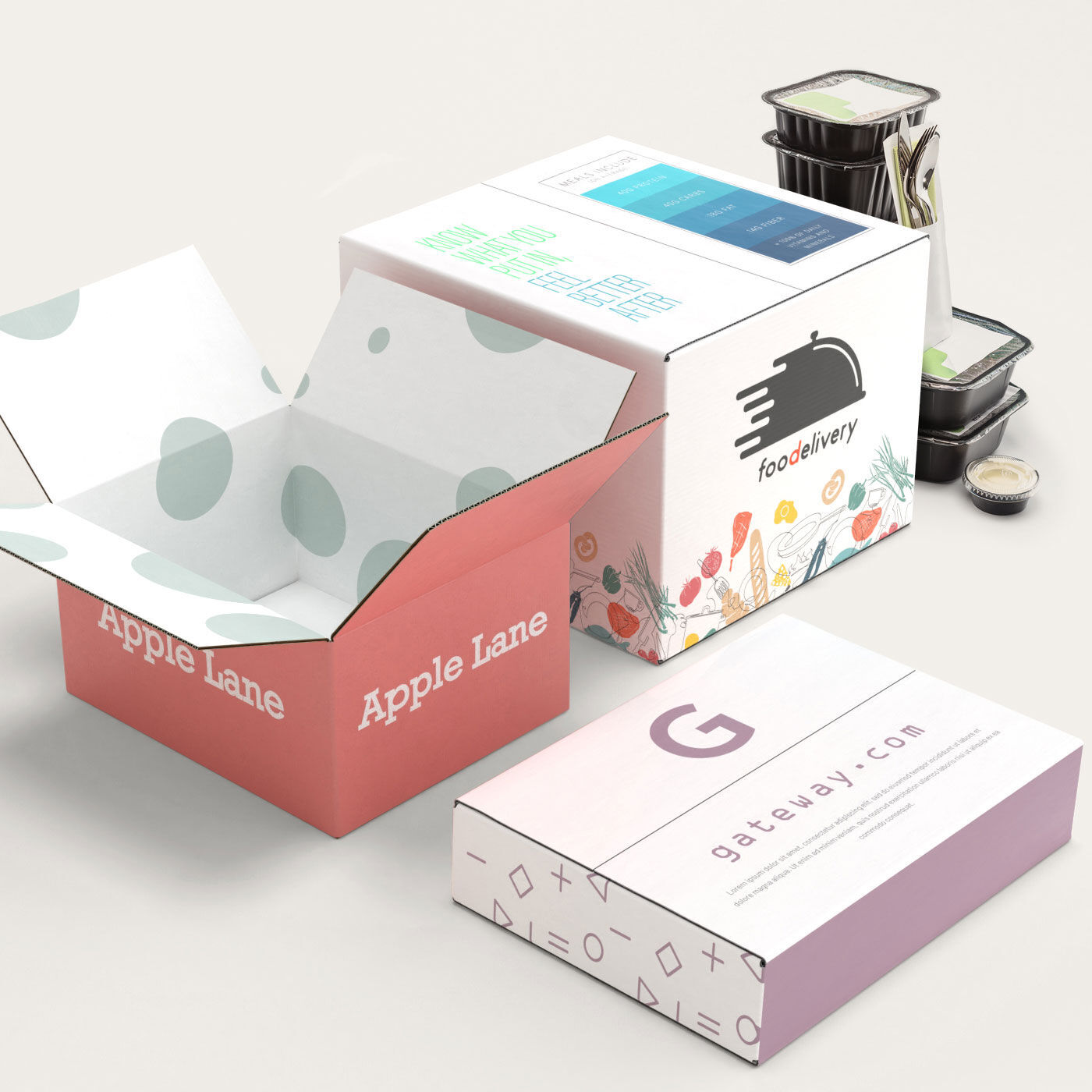 A Wide Range of Dimensions
Whether you need a mailer or shipping box, you can choose from several sizes for the length, width, and depth. Shipping box dimensions start at about 2" and go up to between 29" to 32". Mailer box sizes go from 1" to 15" for depth, 2" to 25" for width and 3" to 25" for length.
Order a Sample Before Buying in Bulk
No minimum order required. Select "1 Sample" as your quantity and we'll customize it according to your choice of interior dimensions, corrugated material, and printed sides. A sample only takes 5 business days to produce.
Expedited Production Time Available
Are you preparing a rush order? While our standard production time takes between 15 business days, you can check "Expedite Production" on the mailer and shipping box calculator to lessen this time to 8 business days.
---
Custom Cardboard Boxes FAQs
Is there a minimum quantity of boxes I must order? 
No. You can order 1 sample that we will print based on the specifications and design you created. 
How soon can I have my custom cardboard boxes printed? 
The standard production time for custom corrugated cardboard boxes is between 15 business days. Expedited production time is at 8 business days. 
What is a dieline template? 
A dieline is provided to customers based on the dimensions, material, and printing sides of their custom printed cardboard boxes. A PDF file is sent to show how the box looks when laid out flat. It ensures that the design elements are correctly placed in the box's respective panels. You can check out this FAQ on dieline templates for more information.  
How thick is the corrugated cardboard? 
The thickness of your cardboard box is based on the selected dimensions. We choose between 1/16" E-Flute Corrugated Cardboard or 1/8" B-Flute Corrugated Cardboard. 
Can I print the cardboard box in plain colors? 
Yes, you can choose from premium or standard white corrugated cardboard. Premium white provides a smooth and luxurious feel, while the standard is a more affordable alternative.  
Kraft (brown) corrugated cardboard is also available for a more organic or natural look. Both the inside and outside can be printed in these chosen colors.
Don't Miss Out
Get the latest product updates, exciting promotions and exclusive discounts in your inbox.