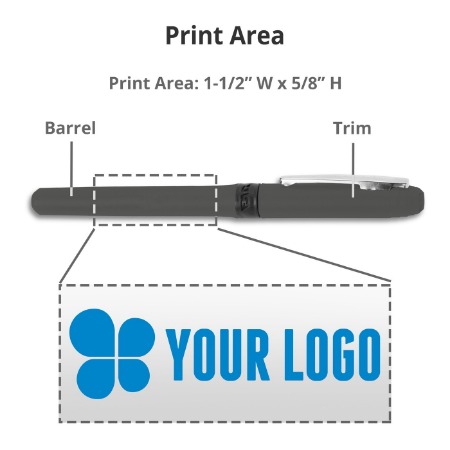 Comfortable, textured rubber grip
Two-piece pen and cap
Features
Comfortable, textured rubber grip
Two-piece pen and cap
Price Table
Quantity
150
300
500
1000
2500
5000
Price
$1.14
$1.09
$1.07
$1.03
$1.01
$0.99
Promote your business like a pro with this durable rollerball pen by BIC® which features fast drying ink for clean, precise writing.
Product Specs
Decoration Method
1-color Imprint
Product Size
5-15/32" L x 19/32" Dia.
Print Area
1-1/2" W x 5/8" H
Point Style
Rollerball - .7mm
BIC® grip roller pens templates.
Save time by using our free templates. Our templates have been setup with proper bleeds and margins, assuring your print job turns out accurate. To download, select a file type and click on the size below.
1,000,000+ business professionals trust us with their printing.
Designers. Small businesses. Iconic brands. We print for you.

Free file check.
Your files will be reviewed for printing errors without paying a cent. We're so confident in the quality of our printing that we provide 100% free proofing. No order commitment or credit card is required!

Reliable. Always.
The product you want. The way you want. Professional printing guaranteed. With UPrinting you can rest assured that your print product will turn our right the first time. We offer superior quality guaranteed.

Fast turnaround.
Some of the fastest printing times. Print whatever you want, when you want with 1-day turnaround options you can have your product printed and shipped within 24 hours.