Print in cut-to-size or roll formats
Available in a variety of shapes and sizes
Waterproof vinyl or indoor-friendly sticker paper
Features
Print in cut-to-size or roll formats
Available in a variety of shapes and sizes
Waterproof vinyl or indoor-friendly sticker paper
Rally Voters and Supporters With High-Quality Voting Stickers
Boost your candidate's visibility with professionally made voting stickers. Whether it's an "I Voted" sticker or a design emphasizing your candidate's name, you can choose a suitable shape, an exact size, and a durable material that ties into your campaign's brand. Here are a few tips to help you create a standout design amid the election competition.
How to Support a Candidate 

With

 Voting Stickers
Print stickers your supporters will proudly display on their cars, devices, and other surfaces. A well-designed and brightly colored campaign sticker will surely capture the attention of anyone in plain sight. Here's how to design an effective voting sticker that will showcase your candidate's brand: 
Choose the correct format for your campaign sticker.

Will you be printing less than 250 pieces or above this number? 

Cut-to-size 

stickers come in quantities up to 250 pieces. They're ideal for handing out at events. Roll stickers are recommended for the mass application of your "I voted sticker" on the packaging and other promotional materials. The roll fits into a standard label gun, saving you time in placing your vote stickers on the candidate's other marketing tools. 

Print in a shape that ties in with your candidate's brand or your campaign message. Several sizes are available for both cut-to-size and roll stickers. Create fun and distinct "I Voted" stickers in the arch or starburst shape, both available for the cut-to-size format. You can also play with the font and typography in the larger space of a square or rectangle sticker.  

Roll voting stickers can also be printed in the standard rectangle, square, circle, and oval. Circle stickers often have short but snappy messages like "I voted" or "Go vote."  

The square and rectangle type can showcase more meaningful messages like "Vote for the Future" or "Vote for your voice to be heard."  

You can also indicate a custom size for a shape that isn't offered among the standard ones available.

Select a material that will bring out the desired appearance of your sticker.

The right finish 

and background 

can complement the image your candidate or voting advocacy wants to communicate. A high gloss or gloss finish stands out from afar while the clear or silver BOPP options appeal to a younger market. 

 
Cut-to-size stickers are printed in two paper types:  
4 mil. white vinyl high-gloss UV

 is waterproof and recommended for stickers you want seen outdoors. The coating brings out the brightness and boldness of the colors on your vote sticker.

70 lb. label

 is available in shiny gloss, extra-vibrant high gloss, and easy-to-read matte. This is recommended for surfaces that need to be writable and are kept indoors.
Roll stickers come in the following materials: 
White premium sticker paper

 lasts on surfaces normally kept and displayed indoors. Recommended for designs you want seen on personal items like a laptop.

BOPP

 offers backgrounds in the following colors for your sticker: white, clear, silver metallic, and rainbow holographic.

Textured materials

 last indoors and when refrigerated. 

Best printed

 on 

food product containers that need to stay cool.
How to Create 

Your

 Own "I Voted" Stickers
Choose the correct size, shape, and specs from the online calculator. Several standard dimensions are available for the different shapes available. 
Use our online design tool to create a voting sticker as you order. After inputting your specs, the tool will provide a blank canvas in your preferred size. Everything from images, fonts, shapes, and resizing can be done on the online tool's menu. 
Download a template. If you prefer editing in a specific program, you can download templates in any of the cut-to-size or roll vote sticker sizes available.
Upload a file if you have one ready for us to review for printing. You can upload it directly from your computer or Dropbox. We accept files in PDF, JPG, AI (Adobe Illustrator), and PUB (Microsoft Publisher) formats.
The Best Printing Partner for Your Campaign
Printing That Surpasses Your Expectations
We ensure high quality in every step of production. Get durable materials for your vote sticker, a thorough file review, and a free PDF proof for checking. We meet your standards with every small and big detail.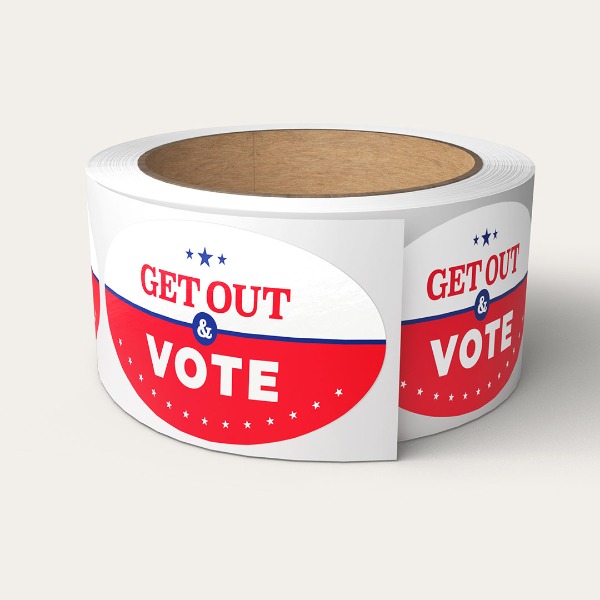 Bulk Orders at Affordable Prices
The larger your sticker quantity, the less you spend on each piece. Save more with bulk orders you can distribute to various locations. You end up spending less on candidate promotions across the country.
Fast and On-Time Delivery Always
Choose your preferred transit period for your voting stickers. One-day transit is available for rush orders. Live in Los Angeles? Pick up for free at our Van Nuys and West Los Angeles offices.
Size. Color. Material. It's all here, and more.
11 Paper/Stock Options
70 lb. Label Matte
Crack and peel paper sticker with an elegant non-reflective matte finish
Features a permanent, all purpose adhesive back
Can be written on with a permanent ink marker or ballpoint pen
For indoor use only, not waterproof

70 lb. Label High Gloss (UV)
Crack and peel paper with a mirror gloss finish
Features a permanent, all purpose adhesive back
Permanent ink markers work best for writing given sufficient drying time
For indoor use only, not waterproof
4 mil. White Vinyl High Gloss (UV)
Crack and peel vinyl sticker with an ultra gloss finish.
Features a permanent, all purpose adhesive back
Permanent ink markers work best for writing given sufficient drying time
Waterproof and great for outdoor use
Quantities 250 and above are hot water resistant
White Premium Sticker Paper
Smooth semi-gloss, pressure-sensitive adhesive paper
Our most popular paper label
Lamination adds oil & water-resistance to the label face
Face stock thickness: 60 lb.
All temperature permanent adhesive sticks to almost any surface
Apply onto clean, dry surface at room temperature
Minimum Application Temp: 30° F
Temperature range that label can withstand: -65° to 200° F
Not for writing on
Recommended for general indoor label application