The Ultimate Guide to Packaging
Packaging has become essential to running all kinds of businesses, from e-commerce companies, skincare brands, to food and beverage sold in supermarkets. According to this McKinsey report, packaging solutions are a $900 billion market. The industries that use the corrugated boxes as packaging provide office supplies, logistics, textiles, electronic products, e-commerce, healthcare, and relocation. Stores are using more pouches rather than glass and cans to contain perishable items. Industries such as food and beverage, pharmaceuticals, household care, cosmetics, and pet food are the dominant users of custom pouches. Food products such as dairy, frozen items, and snacks use packaging sleeves, alongside personal and home care products, pharmaceuticals, and chemicals.
The packaging industry has enjoyed incredible growth in the past seven years, particularly with the boost in online sales in 2020. Adobe Analytics reports that US online sales went up to $63 billion in August, while the first eight months of 2020 "generated $497 billion in online sales." Your custom packaging elements are crucial to delivering, sustaining, and increasing sales. Here are some of the reasons and ways to ensure you're getting it right.
Form Before Function
First and foremost, packaging protects all items from damage in transit or on display. It also increases the shelf-life of perishable items. For food and beverage products, having a label is required to identify the item and to inform customers of the ingredients. Packaging sleeves and labels detail the proper consumption or use of the item. Thus, your packaging design should serve its purpose before anything else. There's no point in it being pretty but made of flimsy material and unable to keep the product intact during shipping.
Your packaging design must always keep function in mind as it executes the form. This all begins with applying the correct size for the package type. For example, you want a mailer box to have enough space for several items, while your shipping box needs allowance for the bubble wrap that will protect the product from external damage.
For smaller items on display or delivered in pieces, you need to ensure that the material can withstand the elements it's exposed to. For example, packaging labels displayed outdoors should be printed in vinyl to protect it from fading and moisture. Drinks or jars that are refrigerated should have labels made of BOPP to keep it good as new in storage.
Invest in a Design That Sustains a Memorable Customer Experience
Repeat customers are crucial to sustaining your business. Dimira Teneva, Head of Content at e-commerce platform Metrilo, emphasizes that "customer retention is the only profitable way for e-commerce brands to grow because repeat sales mean making money repeatedly on a one-time acquisition cost paid." Profitable and repeat customer sales begin with your product packaging. For online businesses, the packaging is the first tactile experience of your brand. It will determine the impression you make and justify why they made that purchase. You want the durability of your custom shipping box or pouch to prove you're reliable and always keep the customer's safety in mind.
It also helps to add a subtle, personal touch to your packaging. Something as simple as a thank you note or a personalized greeting on the mailer box. You can also wrap the items in elegant wrapping paper to make the items feel like a gift they gave to themselves. The customer may love these little touches so much that they record and share the experience as an unboxing video. Your brand gains free advertising without having to pay for the exposure.
Start with Consistent Brand Guidelines
If you're an established business, you probably have a brand style guide that lists down how to use the logo, the correct color palette, the allowed shapes, and all the specifics on the copy. Refer to these guidelines so that everything from the thank you note, mailer box, to the pouch is consistent. You want the customer to experience what they've been anticipating from your online order. It shouldn't feel disconnected from the website and any other promotions you've done outside of the actual delivery. Consistent branding also ensures brand recall every time they see other types of packaging or ads of your product. Your brand becomes top of mind with enough exposure, along with a good impression and experience of your item.
Address Your Package Correctly
Your e-commerce transactions also require smooth and accurate logistics. This begins with writing the recipient's address correctly on the packaging label. Use the format below for both the recipient and return address:
The recipient's (and organization's, if applicable) name(s)
House, apartment, or suite number and street name
City, the two-letter abbreviation for the state
ZIP code
Country name
Different Ways to Level Up Your Custom Packaging
Now that you have the rules and tools for a distinct and durable package, you can choose the correct features that will achieve function with form.
Custom Boxes
Corrugated cardboard is the most durable material for both mailers and shipping boxes. You can print a full-color design on an elegant, uncoated white background or opt for the more rustic Kraft brown option. If you need bold colors on the box, the premium white corrugated cardboard provides a brighter finish and added protection with glossy ink. You can add customizations like corrugated dividers for a box housing several items or white ink printing on your Kraft brown background.
Product boxes are normally printed on sturdy 18 pt. or 24 pt. cardstock. These are sturdy enough to house cosmetics and skincare items. If your item requires specific dimensions for its unique shape or the number of products in a box, you can add a window patch or a cardstock insert. There's also foil stamp embossing for branding that targets higher-end markets. For store-specific needs, we also offer cardstock counter and POP displays. You can also print product boxes in corrugated cardboard if they'll be shipped as-is.
Custom Pouches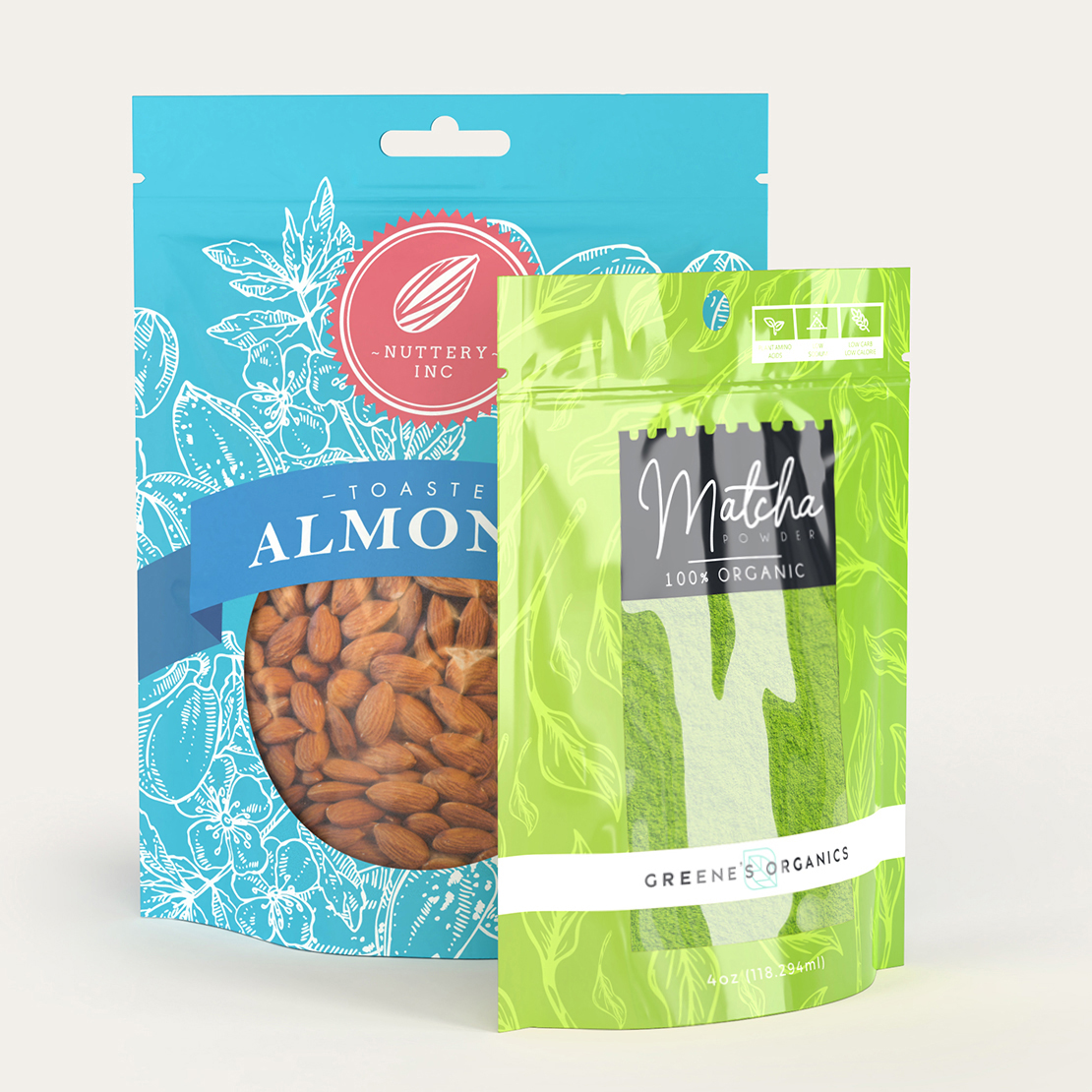 Pouch packaging has surged from the rise of snacking and the shift toward reusable packaging solutions, according to the Mordor Intelligence report on pouch packaging.
Their lighter weight also reduces the costs spent on transportation. You can print either stand-up or flat pouches, depending on the quantity and use of your item. Stand-up pouches have a wide bottom gusset that expands when filled. They can stand on their own once your product is inside. Our stand-up pouches are made of white barrier film that protects your item from oxygen, moisture, and light.
Flat pouches can accommodate smaller capacities from 1 gram to 8 oz. Perfect for single-serve snacks, tea, or dry food samples. There are also sizes for larger items that you can add as freebies, like gadgets and cosmetics that can fit inside a 5" x 5.5", 6" x 7", or 7" x 12" flat pouch. It's also made of barrier film that extends the shelf-life of your product. You can add a resealable zipper so your item stays fresh until its best before date.
Packaging Labels
Labels are printed in individual cut-to-size or roll formats. They come in standard square, rectangle, circle, or oval sizes. But you can also combine a variety of widths and height after choosing "Custom" as your shape. The waterproof BOPP material is recommended for food and beverage items that are refrigerated. For cosmetics, skincare, and other non-stored items on display, you can print the labels in 70 lb. or white premium sticker paper. Choose from a shiny gloss, extra vibrant high gloss, or elegant matte to give the packaging label additional protection and character.
Packaging Sleeves
If you already have blank product boxes on hand, slip packaging sleeves on to them before delivery. Combine a variety of widths and heights to achieve the dimensions you need. All sleeves are printed on sturdy 100 lb. paper coated with either shiny gloss or elegant matte.
Start creating your packaging elements today. Use our online design tool to see how your box, pouch, label, or sleeve will appear before printing. UPrinting lets you combine several features to achieve distinct and accurate branding in the package while ensuring every detail is intact upon delivery. Check out what we can do for you today.