The Ultimate Guide to Essential Business Card Information
Unlike adding your number on someone's phone or trading emails, handing out your business card gives a personal touch that digital exchanges cannot replace. With a business card, your presence remains long after that first meeting. That's why it's crucial to place only the essential bits of information on your card. With a good business card design, your customers and prospective clients will more likely keep your card and compel them to reconnect with you. The design needs to compel them and remind customers why you're worth the extra effort.
It can be overwhelming at first to start a design from scratch. But refining what information should be on a business card and the appropriate presentation ensures you stand out with every customer. Read on to find out what to include in your business card to ensure that you get off on the right foot.
The 6 Most Important Details on Your Business Card
When it comes to what to put in a business card, here's a list that trims down the essential details for your customers:
1. Logo
As a branding tool, the business card should highlight the logo front and center. Your logo is what every customer will associate with your business. Ensure the company logo is the first thing they see and include design elements that you want customers to associate with your brand. This move increases the likelihood of potential customers or business partners remembering your company upon seeing the logo elsewhere.
2. Company Name and Tagline
Your company name may or may not be part of the logo. If it's not, you need to create a design that places the name below the logo. Make sure there is enough room between the elements so each branded part can "breathe." Plan the negative space around the logo and text to balance the overall layout.
3. Your Name
Print the name you'll be using when introducing yourself in-person to a potential client or customer. For example, you want to indicate your name as "Alex" rather than "Alexander" if that's the name you usually go by. No need to put your second or middle name, either. By doing so, you won't have to re-introduce yourself at the next meeting or call.
4. Job Title
Why would your potential customer want to contact you in the first place? Tell them exactly what you do on your card. While they might not remember your name, they would still know what you do when you clearly indicate what your specialty or job is.
5. Website Address
Your customer may need more information to seal the final deal. Make sure your website is updated, and the address is easy to read. The website will sell and reinforce all the other information your customer needs to know.
6. Contact Details
Other customers prefer to get details through a one-on-one conversation. List down the best ways your customers can reach you. Make sure your contact information, such as your email address and phone number, is updated. If you want your prospective clients and customers to contact you by phone or email, make the font size or style distinct over all other details.
How to Lay out Your Business Card
Wondering how what goes on a business card all come together? Check out the guide below to know what to put on each side and how to correctly lay out the business card information to include.
Front of the Business Card
The front of your business card shows all the relevant brand elements seen in other promotional tools of your company:
• Logo
• Company name
• Optional: tagline
Back of the Business Card
The backside shows who to contact and all the relevant ways to reach the individual:
• Name
• Job title or position
• Contact details
• Website
• Social media
Printing Guidelines
The above elements will only look good if you follow the printing guidelines. All available business cards come with downloadable templates that show where to place the text and images accurately. The lines ensure that no detail is cut or removed in the final production of your business cards. Below are the guidelines that appear in each template for your reference:
• Safe Zone surrounds the area that should contain the essential information listed above. Do not go beyond this area when laying out the contact information and other vital details.
• Trim is the actual size of your business card and is where we cut to achieve the final dimensions.
• Bleed is where you'll extend the background color to ensure no blank space in the final print.
Find the Best Printing Style and Features for Your Business Card Design
The crucial details on your card will only stand out with premium printing. Depending on your brand image, you can choose from several finishes and unique features available for customization. Check out which premium option best suits your business.
Foil Business Cards
Highlight your logo with a shiny, metallic-like finish. Choose from gold, silver, blue, red, copper, or black foil that will distinguish your visual in one glance.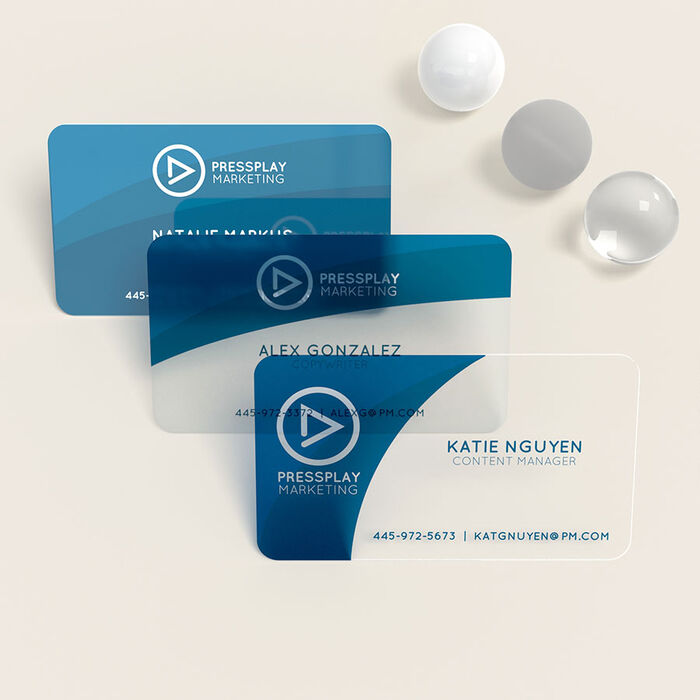 Plastic Business Cards
Go beyond the regular cardstock and have your details printed on clear plastic. Your business logo and contact information instantly stand out on transparent and extra-thick plastic. You can also design on frosted or white backgrounds if you prefer a modern look.
Painted Edge Business Cards
Are you in a creative profession such as advertising or graphic design? Own an arts and crafts business that offers a personalized touch in its products? The painted edge business card best matches the personality of your brand. Bright or bold colors stand out at the edge on 32 pt. cardstock, which is the thickest available type. Colors range from red, metallic blue, pink to turquoise.
Raised Spot UV or Spot UV Business Cards
Hand out business cards customers will look at and feel under their fingertips. Raised spot UV creates an elevated and extra shiny texture on details you want instantly noticed. Apply this polished and classy effect on your company name or logo. The glamorous finish comes in gold, silver, or holographic colors.
Silk Business Cards
Prefer understated luxury in your design? A silk finish exudes a soft touch and a high-end image while protecting the information with its water-resistant property.


Want to check out the other business card printing options? Check out the other available business card printing options here at UPrinting.