Print Tips
Knowing the Difference Between Quality Online Printing and Not-So-Quality
It's easy for someone to call themselves a quality online printing company, but if they're not living up to the title then it doesn't mean much. Before you choose the printer for your next job, make sure they meet the following criteria:
How to Choose a Quality Online Printing Company
Digital vs. Offset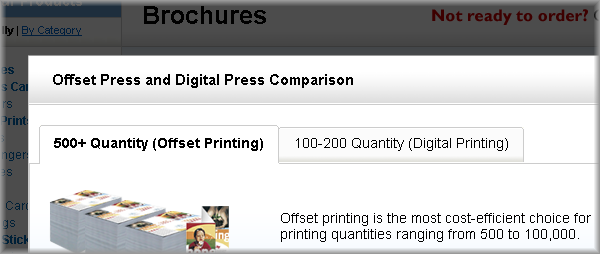 Here at UPrinting, we offer digital printing for short runs, but the bulk of our online printing is done using a process called offset printing. Unlike some formats of digital printing, offset printing offers consistent high image quality. Images are sharper, text is clearer and there's no bleed.
Though not as durable, digital printing has its benefits – it's quick to set up and extremely cost-effective for short runs. However, when looking for quality online printing, always choose a printer who offers offset printing and not just digital.
Free Proofing

A quality online printing company should provide you with a free press-ready proof before you put down your money. Unfortunately, most don't. Here at UPrinting, we do all the setup and pre-press to provide you with a press-ready proof that's yours to keep, regardless of whether or not you use our services.
Hands-on, Local Support

Getting a document laid out and print-ready isn't always easy and we know that, which is why we offer hands-on and locally-based technical support by phone (1-888-888-4211) and online Monday to Friday, 7AM-7PM PST.
We don't just limit our support to ordering either; we'll actually help you set up your file, use our free templates and get your job ready for printing. In addition, we also offer design and customization services for a small fee.
Free Samples

A quality online printing company should stand behind their product and be willing to back up their claims of superior quality. Here at UPrinting, we offer free printing samples on a range of paper stocks so you can see for yourself just how good we really are.
Unedited Customer Reviews

At UPrinting, we publish every single one of our customer reviews, not just the good ones. So far, we've published 9569 reviews. Why do we do that? Because we know we offer quality online printing and we don't have to edit or veto our customer feedback. It speaks for itself with an overwhelming amount of clients coming back again and again.
Remember, it's easy to slap a "quality online printing" label on a website, but a company has to prove it before I'll believe it.
Check out our free file review service.