Tri Fold Brochure Printing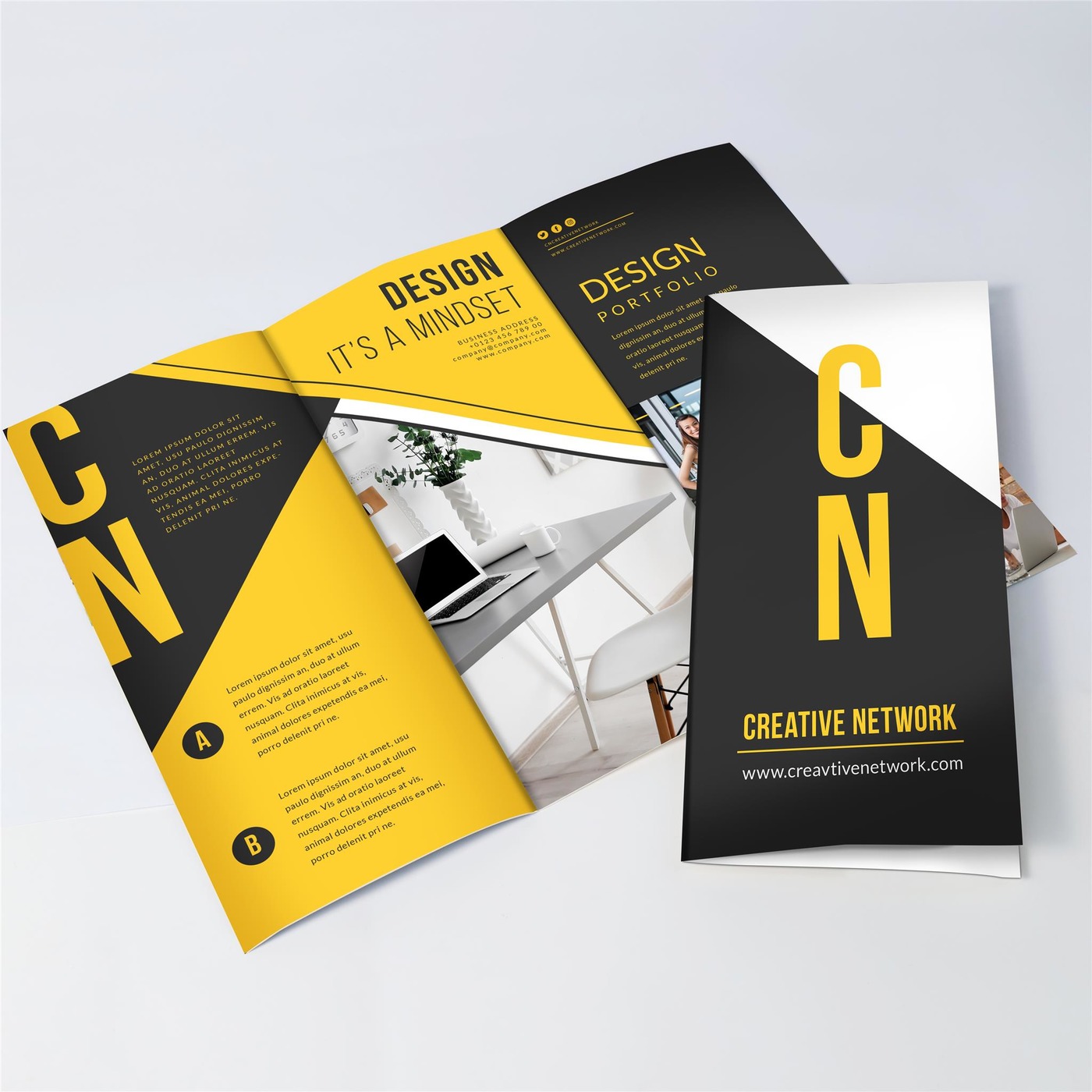 2-panel, 4-panel and 6-panel folds also available
Comes in gloss, matte or uncoated
Standard and custom sizes available
Print turnaround as fast as 1 business day
Features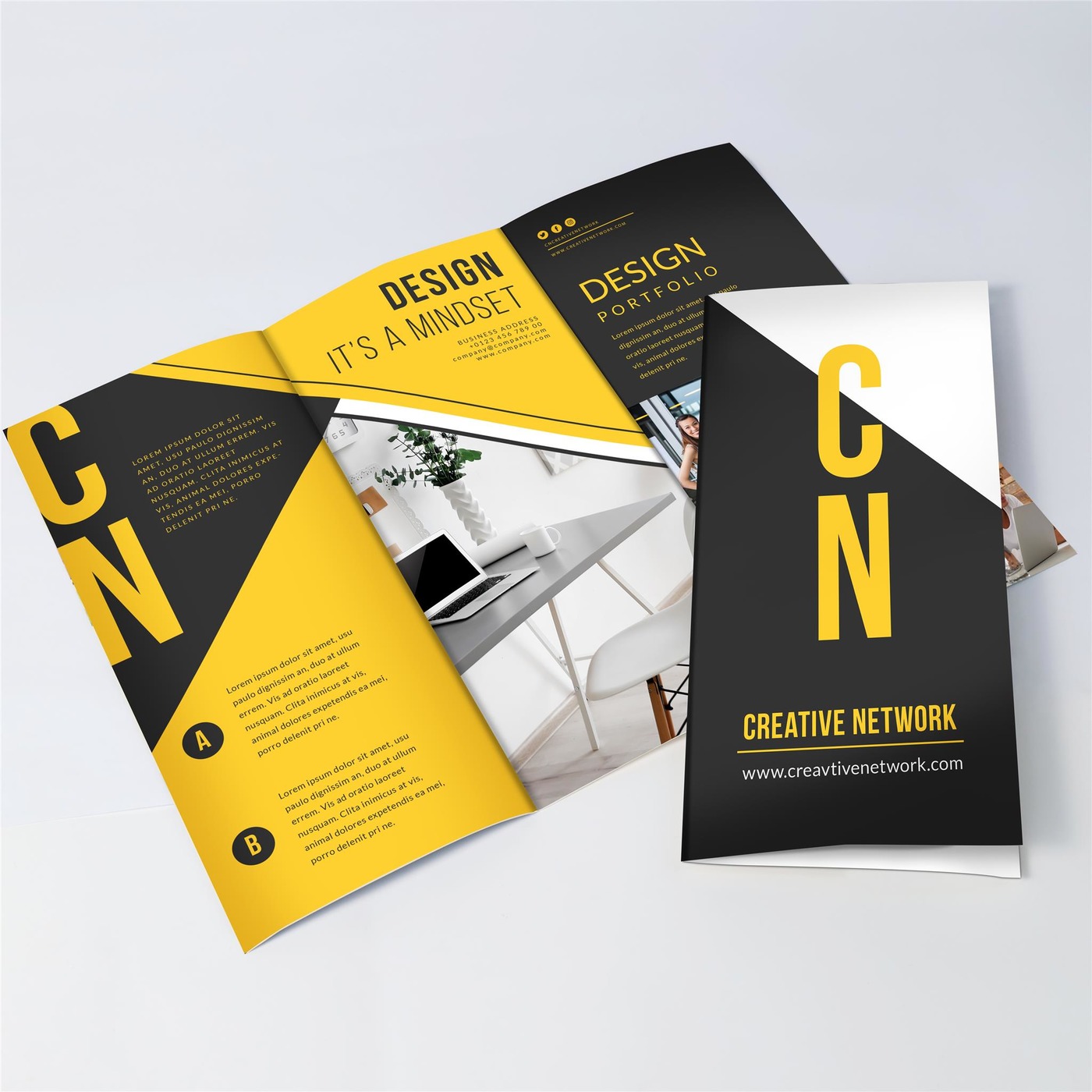 2-panel, 4-panel and 6-panel folds also available
Comes in gloss, matte or uncoated
Standard and custom sizes available
Print turnaround as fast as 1 business day
Tri-Fold Brochure Printing: Marketing Tool With 3x the Impact
Tri fold brochure printing is a great option for promoting your business. With tri fold (or letterfold) brochures, you will have a cost effective prints with more panels to include images and important details. This will help your readers better understand the products or services that you offer.
Disclaimer: Images on this page are not owned by UPrinting and are used solely as design examples. Please click on the images to see their original sources.

Source: deviantonis.deviantart.com/art/Brochure2008-91346565


When it comes to designing your brochures, planning is essential. You need to create a compelling design that both catches the readers' attention and delivers your message effectively. Account for each of the 6 panels of the brochure; decide what to place on which panel. Here are some tips on how to design and market your brochures.
Create an eye-catching cover. You never get a second shot at impressing your audience. Since the cover is the first thing that your target audience will see on your prints, you need to make extra impressive. You can do this by using a great photo, coordinated colors, an interesting headline or an irresistible offer.

Source: flickr.com/photos/makkens/2727406529/



Use high-quality photos. When promoting products, use high quality photos to make your prints professional-looking. You may opt to hire a professional photographer or someone who can produce compelling and high-quality photos.

Source: coroflot.com/public/image_file.asp? individual_id=279071&portfolio_id=2597743



Use fonts that are easy to read. There are lots of options available today when it comes to fonts. But don't get confused on which ones you should use. Consider the readability of a font before using it on your tri fold brochure's design. Use fonts that reflect the purpose and general theme of the brochure, this will help you communicate your message effectively. Do not use several font styles at once. One or two styles should be enough. This will help keep your designs organized.

Source: coroflot.com/public/image_file.asp? individual_id=313902&portfolio_id=3527417



Don't forget about "white space". One way to keep your tri fold brochure design organized is by using enough white space. This will help you make your design balanced and visually appealing. White space also helps the readers focus their eyes correctly on the information or message presented on the print.

Source: coroflot.com/public/image_file.asp? portfolio_id=2389573&individual_id=115054&s=0&v=4&a=5&t=0< br />


Use your company colors. Including your company colors on your brochure design is one way to boost branding. Coordinate your designs with your other marketing materials such as business cards, presentation folders, letterheads and others. Your readers will be able to distinguish your brochures and associate it with your brand.

Source: coroflot.com/public/image_file.asp? portfolio_id=3431918&individual_id=210272&s=0&v=4&a=5&t=0



Entice readers by making an offer. Give your target audience more reasons to read or keep your brochures by including an irresistible offer. Great offers like discounts, free shipping, and free gifts or trials will encourage them to do business with you. You can include a form on the last page or backside of your brochure where they will put simple information such as name and address in exchange of free gifts or discounts. 

Source: behance.net/gallery/Brochure-designed-for-ATW- CS/369090



Motivate readers using effective call to action. An irresistible offer will be useless if people are not compelled to act on them right away. Tell your readers what to do next; to call you, email you or visit your store. Always include a clear and persuasive call to action on your brochures to lead them to the next step that you want them to take. 

Source: coroflot.com/public/image_file.asp? portfolio_id=2371575&individual_id=263979&s=0&v=4&a=5&t=0< br />


These tips are just quick guides on achieving an effective trifold brochure. Once you are finished with your design, it would still be best to consult an expert from your chosen printing partner. 
Size. Color. Material. It's all here, and more.
6 Paper/Stock Options
100 lb. Paper Gloss
Fine quality and smooth textured paper that is thicker than the standard magazine paper
Foldable and easy to keep for future reference
Gloss coating comes with a shiny finish and prints colors in vivid detail
Has a fade-resistant surface
100 lb. Paper Matte
Fine quality and smooth textured paper that is thicker than the standard magazine paper
Foldable and easy to keep for future reference
Matte coating has a non-gloss finish that suits soft colors and text-based designs
10 pt. Cardstock Gloss
Durable cardstock that's scored prior to folding and easy to hand out

Glossy finish provides vibrant color printing and extra protection

Scratch and scuff-resistant coating
10 pt. Cardstock Matte
Durable cardstock that's foldable and easy to hand out

Matte coating produces an elegant, muted hue

Smooth, low glare finish that's easy on the eyes
80 lb. Paper Gloss
Slightly thicker and heavier than the 70 lb. paper

Medium weight that makes it easy to hand out

Gloss coating brings out the boldness and brightness of the colors

70 lb. Paper Uncoated
The thinnest and lightest paper stock available

Easy to fold and carry around

Has a smooth, writable surface on both sides; perfect for flyers that include forms
Save time by using our free templates. Our templates have been setup with proper bleeds and margins, assuring your print job turns out accurate. To download, select a file type and click on the size below.
1,000,000+ business professionals trust us with their printing.
Designers. Small businesses. Iconic brands. We print for you.
Free file check.
Your files will be reviewed for printing errors without paying a cent.
More printing.
150+ print products to help you make a good impression. 1000+ options to customize to your heart's content.
Reliable. Always.
The product you want. The way you want. Professional printing guaranteed.