Get Creative With Your Branding With the Help of Our Label Maker
Got some creative ideas that might help your branding? Bring them to life by using UPrinting's label maker. Our custom labels can be used for labeling your product packaging or sealing your mailers and invitations. You can also use them as handouts at events and conferences.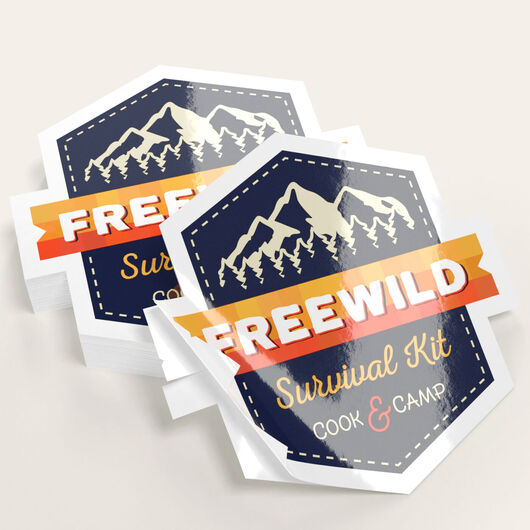 UPrinting's Label Maker
If you are looking for labels for both indoor and outdoor use, our vinyl label maker or clear label maker would be ideal for your needs. The BOPP and vinyl materials used for the labels are waterproof and oil-resistant. They are also suitable for refrigeration, which makes them perfect for beer bottles, ice cream tubs, and any packaging for frozen food. 
Coat your custom labels with premium finishes such as foil and metallic for additional protection and to elevate the design. You can personalize your labels by using our intuitive online design tool. You can add your logo, product name, artwork, and other important details to your label. If you want to do a final check on your artwork before printing, just request a free PDF proof from us. Make sure to approve it so we can proceed to production. 
How to Create Your Custom Labels 
Make your brand front and center of your custom labels. Personalize the label design by following this step-by-step guide. 
Step 1. Click UPrinting's Label Maker to start creating your custom labels. 
Step 2. Choose a cut-to-size or roll format. Cut-to-size labels are ideal for promotional giveaways and labeling a small number of items. They can be manually applied. Roll labels, on the other hand, are suitable for high-quantity labeling and package sealing since they can be applied using any standard label dispenser. 
Step 3. Select the shape and size. We offer our custom labels in several standard shapes including rectangle, square, circle, and oval. If none of these shapes suit your needs, you can always opt for a custom shape on both cut-to-size and roll label formats. 
 When it comes to size, we have a wide range of dimensions to choose from starting from the smallest sizes, which are 1.5" x 2.5" (cut-to-size) and 0.5" x 1" (roll), to the biggest sizes, which are 9" x 12" (cut-to-size) and 8.5" x 11" (roll). Custom size is also available for our cut-to-size labels. 
Step 4. Pick the material. Go with BOPP or vinyl if you want your custom labels to be waterproof and chemical-resistant. If you need labels exclusively for indoor use, choose the white premium sticker paper or textured paper. 
Step 5. Select the coating. Add a gloss, matte, or high-gloss UV finish to your labels. It can add better protection and more flair to your label design. 
Step 6. Choose the quantity. Enter how many labels you need. The minimum order quantity for cut-to-size labels is 25 pieces. For roll labels, the minimum is 100 pieces. 
Step 7. Design your custom labels online. Click Create Your Design Online to use our website's online design tool. Here you can personalize your labels by adding your logo, tagline, photos, artwork, and more. You can also change the background color or crop unnecessary parts of your design. Once you are done, save it or proceed to checkout. 
You can also go straight to uploading your artwork or design on our website. Request for a free PDF proof that we can send to you via email. Don't forget to approve it online so we can start printing your labels. 
Q:

What makes a label attractive?
A: There are many ways to make your custom labels attractive. You can use vibrant colors and unique designs to catch the attention of your customers. A minimalist approach to the design, where there is plenty of white or negative space, can also make a label eye-catching and attractive. Creative and witty copies can work, too, as long as the typography is clear and readable from a distance. 
Q:

What information should I put on a label?
A: This would depend on the purpose of the label. If the labels are going to be applied to food packaging, you need to indicate important details like the net weight, nutrition information, and ingredients since these are required by most state laws. If the labels are for sealing boxes or labeling packages, you can put your logo, company information, or warnings like fragile and handle with care. 
Q:

How will I know the size or type of labels

 that

I need for my product?
A: Our wall stickers last for at least 5 years with proper installation and care. You may refer to the installation instructions above. 
Q:

Can I reapply wall stickers and will a mark be left on the side it was removed from?
A: The size of your labels mostly depends on the size of the product packaging. You can use bigger labels on mailer boxes and wine bottles since they have a larger surface area where you can apply the labels. Smaller-sized labels are more apt for products like soaps and lipsticks.? 
Choose the label type based on how many you need. For small quantities, choose cut-to-size labels. If you need to label many items quickly, go with roll labels. 
Q:

Can I order custom printed labels in bulk?
A: Yes, you can order as many custom labels as you want. This would actually be better if you want to score big discounts since bulk orders cost less per unit.