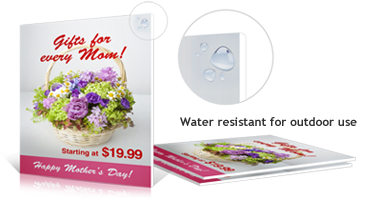 Poster Signs

Printed directly on 1/8" white PVC board
Water resistant for outdoor use
Available in Standard or Custom Sizes
Get Started
I don't have a design yet.
Quickly compare pricing on options and quantities. Estimate Shipping and Turnaround
Applications

Technical

Articles
Poster signs are great for creating outdoor and indoor advertisements. Many businesses send in designs for poster signs printing to make their point-of-sales displays because these are cost-efficient and the posters' sizes allow high visibility. These types of posters are also popular as trade show and conference displays, room decor, educational tools, and art reproduction media. There are many more ways to use poster signs - you're really only limited by your imagination!