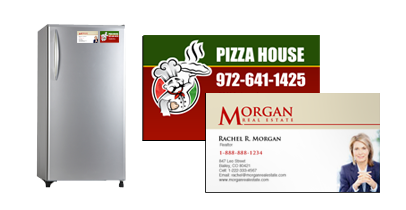 Business Card Magnets

Durable 17pt Magnetic stockNew improved!
Available in Standard and Custom Size
UV coated for impressive High Gloss finish
Get Started
I don't have a design yet.
Quickly compare pricing on options and quantities. Estimate Shipping and Turnaround
Applications

Technical

Articles
It's true that magnets can be used to fasten your little girl's A+ test on the refrigerator door and of course, to stick the list of important numbers where you can see them. But have you also considered actually using card magnets to display your business information and contact numbers? Considering how many times you or your audiences might open the refrigerator door or pass by the office bulletin board in a single day, a card magnet can be a marketing godsend.

Aside from advertising your services and products, card magnets are also great as giveaways for special events. You can print out calendars and photos on card magnets, making them even more useful and memorable.