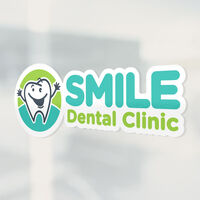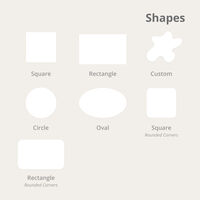 Print 

o

n a clear or white background

 

Low tack removable

Available in custom

 shapes 

and

 

sizes
Features
Print 

o

n a clear or white background

 

Low tack removable

Available in custom

 shapes 

and

 

sizes
Create Window Stickers for Your Storefront and Vehicle 
Design custom window stickers to display at your store or on your company vehicle. Choose a standard shape or custom size that will easily fit the surface it will be applied on. All designs are printed on window adhesive. Comes in a clear background that still shows your store interior or in a colored background to contrast the front. Upload your artwork or create a design online. All files are reviewed before printing and you can also opt to approve a PDF proof after submitting the design.
How to Customize Your Window Stickers 
Choose a size and shape that fits your display surface. All standard shapes—square, rectangle, or circle—come in small, medium, to large sizes.
Print on a background that complements the window. Print on a clear or white background, depending on how you want the ad noticed. Truck window stickers need a transparent background so it doesn't obstruct the view. Your storefront display can play around with a bright or bold display that will pop out from afar.  
Print in the two window adhesive options that are removable and reusable: 
Clear window adhesive has a see-through finish that complements solid white or colored designs on your foreground. But you can also print transparent elements on top of the clear background. 
White window adhesive has a glossy, bright finish that suits full-color displays. It works best for outdoor window stcikers seen from outside.  
These materials are best applied from the exterior front of the window or clear surface.  
For displays viewed from one direction, choose the perforated adhesive vinyl. This means that the display is the only thing customers see when they face the window and they won't be able to see what's inside your store. It comes with a permanent adhesive that leaves a residue when removed.  
Upon selecting clear window adhesive, you are given four (4) options to mark the readable text or images. No need to prepare the file as we'll set it up based on the following choices: 
Make everything transparent – This makes your entire design transparent or clear. No white ink is added to the artwork to distinguish it from the clear background.
Make only the background transparent– All images and text have a white ink layer underneath so they are visible from the clear background. 
Make white areas on file print clear – White elements on your design such as text and images will be clear. Everything else will be colored.
Follow file transparency settings means you've added the white ink layer and set the clear areas yourself. We will print the file as is. 
Order a set of window stickers to showcase your business today. Print them as car window stickers or seasonal promos you can reuse in the future.