News
UPrinting News
UPrinting Promos
UPrinting.com Now Offering Custom Clothing Tags
UPrinting's clothing tags now come with great customization options! You can choose just about any detail about your clothing tags, and we'll be able to tweak it to your liking. Check out the rest of this entry to see what options we've got in store!
New Custom Cloth Tags from UPrinting.com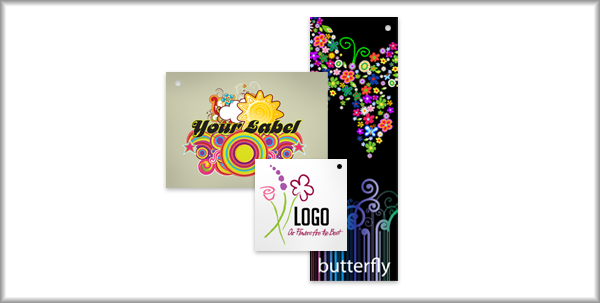 Choose a Hole Drilling Size
You can choose between two hole sizes for your clothing tags (3/16" or 1/4") right on the UPrinting website. For custom hole cuts, please contact us directly either through our website or by phone at 1-888-888-4211.
Short Runs
We offer four-color, offset printing in quantities starting at just under $60 for 250 clothing tags. We know that most independent clothing manufacturers aren't looking for thousands of tags or maybe don't want to get stuck using the same generic tag for every article they sell. Short run printing lets you print custom clothing tags for specific articles.
Choose a Hole Location
Top-center, top-left or top-right, the choice is up to you.
Your Own Design
You don't have to tie yourself to a template. You can use UPrinting's U-Design service to create your own custom clothing tags, right on the website, no special software required. Alternatively, you can submit your own artwork or contact us directly (1-888-888-4211 or through the website) about our design-for-hire services.
Pick any Size
UPrinting.com is offering five different standard clothing tag sizes, but custom sizing is, as always, available. Our custom clothing tags start at 2"x2" and go all the way up to 8.5" x 11" (now, that's a big tag!).
To check out the product line and get some design ideas for your next run of clothing tags, visit the UPrinting website.
Comments