News
UPrinting News
UPrinting.com Helps Small Business Prepare for 2010 with 20% Off Brochure Printing
Los Angeles, CA November 16, 2009 – UPrinting.com, a leading provider in online print and design solutions, is offering 20% off brochure printing to help small businesses prepare for the upcoming year. The sale will continue through December 15, 2009.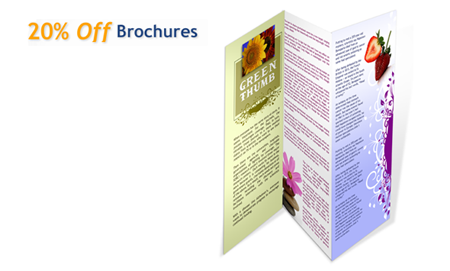 UPrinting.com offers standard 8.5 x 11", 8.5 x 14", 11 x 17" and 11 x 25.375" brochure printing. For clients looking to create custom sized marketing brochures, UPrinting.com offers custom sizes from 4 x 5.5" up to 12 x 26" in .25" increments. Get instant prices on custom sized orders using the simple online price calculator. To start your order, upload your design and get a free proof without providing any upfront payment information. If you do not have a design, UPrinting.com's design team can create a custom brochure design for you at an affordable price.
"We understand that many companies offer products and services that change on an annual basis. As business owners prepare for marketing campaigns and tradeshows in 2010, they will need fresh marketing materials. As a company that specializes in small business marketing support, UPrinting.com is offering a 20% off brochures to ease the financial cost on our clients," stated Samuel Nam, UPrinting.com marketing manager.
About UPrinting:
UPrinting.com offers many printing services such as postcards, business cards and posters. Clients can order with assurance knowing that each design uploaded to the website is checked by a live person and prepared for print. For more information about UPrinting.com's services, visit www.uprinting.com or call (888) 888-4211!
For more information, press only:
Samuel Nam, UPrinting.com
blog.uprinting.com, (888) 888-4211
Comments