News
UPrinting News
UPrinting, the Online Printing Company, Sponsors the Elk River Soccer Club
Los Angeles, CA (July 14, 2009) – UPrinting announced that they will be sponsoring Elk River Soccer Club's enrollment promotions for the summer of 2009. As the printing company that specializes in small business and non-profit marketing, UPrinting was able to donate custom postcard printing services as part of their sponsorship of Elk River Soccer Club.
The Elk River Soccer Club is currently seeking registration for the Fall 2009 and Spring 2010 seasons. The deadline for registration is July 25, 2009. Regular Registration fees are $60. Elk River is also always looking for volunteers to get involved with their organization.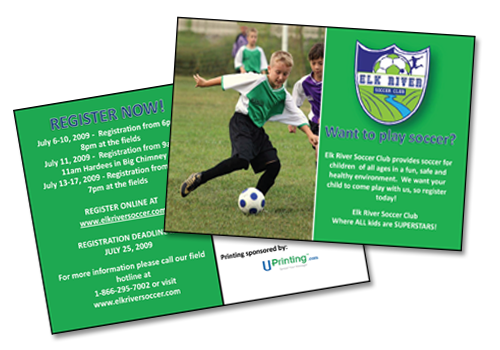 Ben Adams from the Elk River Soccer Club said this about their experience with UPrinting's postcard printing services, "UPrinting has been absolutely fantastic to work with! We received postcards from you guys to mail out about our registration and everyone was so impressed.  The printing looks fantastic and was on-time! We had a minor issue with payment for shipping and it was handled quickly and efficiently by your staff. We really look forward to using UPrinting in the future. "
For more information on the U-Community program and different sponsorship levels, please visit the website at https://www.uprinting.com/About-Community.html
About Elk River Soccer Club:
Elk River Soccer Club is a member of the Kanawha Valley Soccer League. They are a local recreational soccer club located in Charleston, WV.  They provide recreational soccer to children of all ages in a fun, safe, and family friendly environment.  Elk River Soccer Club believes that every kid is a SUPERSTAR!
About UPrinting:
Every day, UPrinting serves thousands of on-demand printing orders online, allowing customers to design their own brochures, postcards, business cards and other printed materials. Using high-quality printing presses and a robust, yet simple and easy-to-use, online ordering system, UPrinting is able to provide high-end printing at low costs. Key customers are businesses, organizations, individual consumers and independent designers.
For more information, press only:
Shane Springer, 310-575-4440, blog.uprinting.com
For more information, visit UPrinting.com:
https://www.uprinting.com