News
UPrinting News
Summer Discounts on Postcard and Poster Printing from UPrinting.com
Los Angeles, CA (June 25, 2009) – UPrinting.com, the online printing company specializing in small business printing, is offering deep discounts on postcards and poster prints for the month of July 2009. UPrinting is offering 30% off postcards and 25% off poster orders. Color postcards start at $13 for 50 pieces and the unit price only decreases with orders over 1000 prints starting at $40. Poster printing starts at $21 for 50 8.5×11" prints with size options up to 27"x39".
"The discounts that we are offering on posters and postcards will help small businesses promote their summer events and sales on a reasonable budget," said UPrinting.com spokesperson, Samuel Nam. "The overall mission of UPrinting.com is to help businesses spread their message. We're doing our part to help business owners continue their marketing efforts in a time when every dollar counts."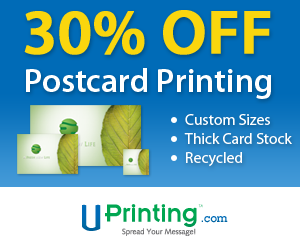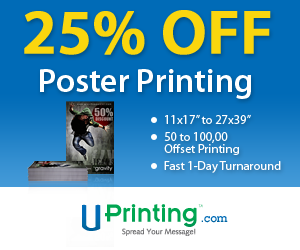 Discount details:
• 25% off Poster Printing – Maximum of $200
• 30% off Postcard Prints – Maximum of $100
• Offers expire July 31, 2009
How it works:
Go to UPrinting.com and click on the Posters (Bulk, Offset) or Postcards order page. Enter your printing specifications into our instant pricing calculator. Prices will automatically reflect the discount. No coupon code is required.
Business owners who are in need of marketing materials will find a full-line of printed products at UPrinting.com, including business cards, brochures, flyers and vinyl banners. In addition to printing and mailing services, the website offers an online design tool, design template gallery and live design help for those who don't have a design. Additionally, the website features UPrinting's famous Free Project Review service, which allows clients to submit their design files have them checked and proofed by prepress, with no upfront payment or order commitment.
About UPrinting.com
Every day, UPrinting.com serves thousands of on‐demand printing orders online, allowing customers to design their own brochures, postcards, business cards, and other printed materials. Using high‐quality printing presses and a robust, yet simple and easy‐to‐use, online ordering system, UPrinting.com is able to provide high‐end printing at low costs. Key customers are businesses, organizations, individual consumers and independent designers.
Comments