News
UCommunity News
Animal Protection & Rescue League to Hold its 8th Annual Turkey-Free Thanksgiving
SAN DIEGO, CA–(UPrinting.com – Nov 9, 2011) The Animal Protection & Rescue League is holding its 8th Annual Turkey-Free Thanksgiving on Saturday, November 19, 2pm-5pm at the World Beat Center in Balboa Park, San Diego, California.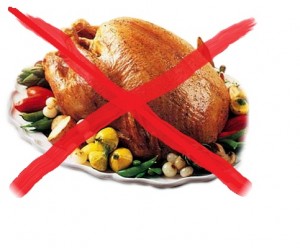 Since 2003, the Animal Protection and Rescue League has worked to change prevailing attitudes towards animals, being instrumental in influencing animal protection legislation as well as conducting several rescues of abused factory farm animals.
The advocacy's greatest coup is perhaps their central role in the passing of "Proposition 2: The Prevention of Farm Animal Cruelty Act."  The proposition received 63% of the popular vote- making it the most popular ballot measure in California history.
They have also successfully lobbied for the passage of other state laws, including the recent law banning both the production and sale of foie gras, a product that involves painfully force-feeding ducks or geese to enlarge their liver.
The APRL has also pursued its advocacy by educating the public, encouraging companies to have more humane policies with regards to the treatment of animals, and by persuading cities to find more humane solutions to wildlife management.
As it has done with other advocacy groups in the past, UPrinting.com has provided the APRL with custom full-color flyers. "We were very pleased to work with the nice folks at UCommunity", says Kath Rogers, APRL Programs Director. "We really appreciate all the ways they help our community – we couldn't be happier with the flyers they donated for our organization!"
Tickets to the event are at $15, with children admitted at half-price. Participants can expect a festive Thanksgiving atmosphere, with delicious vegan Thanksgiving-themed food, music, as well as a presentation about the group's advocacies.  The APRL appreciates donations and volunteers to help out for the event.
Click here to RSVP. For more info on the APRL's 8th Annual Turkey-Free Thanksgiving, click here.
—
About UPrinting.com
UPrinting.com provides online printing services to entrepreneurs all over the United States, giving them resources that were once only within reach of large companies.  UPrinting.com is also recognized for its innovative business practices and has been featured on Inc. Magazine's "Inc. 500/5000" list two years in a row. The company is also known for providing sponsorships to progressive social causes. For more information about UPrinting.com, please visit its website at www.uprinting.com
---
Check out our custom printing services here.
---
Comments