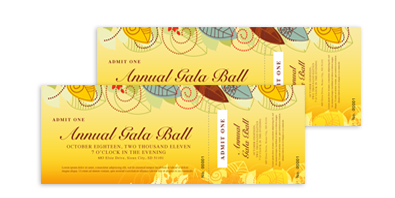 Event Tickets

Thick and Glossy 10pt Cardstock
Options for Perforation and Numbering
Minimum Quantity only 50 Prints
Quickly compare pricing on options and quantities. Estimate Shipping and Turnaround
Applications

Technical

Articles
Event tickets can be souvenirs. Because of their sturdy material, they can also be used as contact cards with your details printed on the back. We can help you produce the kind of ticket attendees will want to keep by doing as great a job on the printing side as possible!
Your event tickets can come with perforations and sequential numbering. We do perforations to allow easy separation of two sections of the material, such as allowing paper to be torn easily along the line. The other half of the tickets can be kept as souvenirs from the event.
Try our FREE Event Ticket Templates!